25 Weeks to Go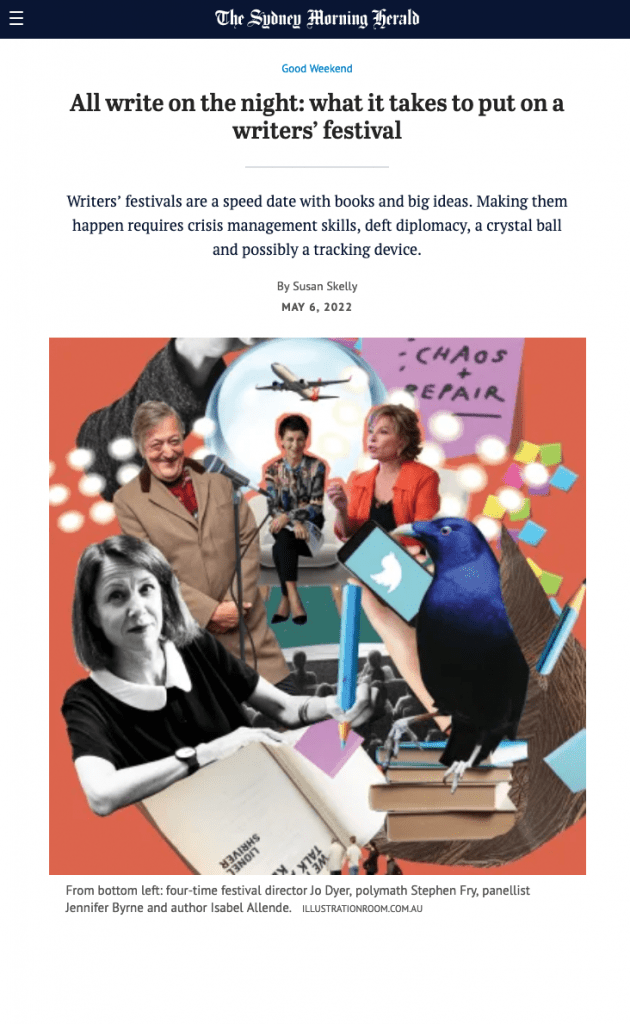 Good Weekend (May 7-8 issue) had an interesting article on writers festivals -- the highs and lows, the difficulties and rewards, of putting one together. Much of it resonates for us on the Berry Writers Festival committee. The article calls writers festivals 'a speed date with books and big ideas,' and that captures the excitement of the event. One of the authors on our program, Anita Heiss, is quoted as saying that a festival rewards the isolation that's often part and parcel of the writing process: "I love how readers come to sessions and signings and just want to say hello, get a selfie, and tell you how your words have moved them," she says. "It's not so much about selling books: it's the panels I've been placed on, the other writers I want to be on stage with, talking about issues and themes that matter to me as a First Nations Australian writer living in a global village."
We feel privileged to be having our own writers festival in Berry.
Meet two authors
Meet two of the authors scheduled to appear at our Festival in October.
Both authors have been featured in the Good Weekend.
Wendy McCarthy
Wendy McCarthy OA is one of Australia's most accomplished women and the author of Don't Be Too Polite, Girls: A Memoir (2022).
She has held many significant leadership roles , including eight years as Deputy Chair of the Australian Broadcasting Corporation, ten years as Chancellor of the University of Canberra, and 12 years as Plan Australia's Chair, with three years as Global Deputy Chair for Plan International. In 2016 she completed eight years as chair of headspace, the National Youth Mental Health Foundation and in 2017 she completed 9 years as Chair of Circus Oz, Australia's leading circus.
Currently Wendy is Board Advisor to the Front Project, Deputy-Chair of Goodstart Early Learning and a non-executive Director of IMF Bentham, the world's most experienced and successful publicly listed litigation funder. She is a Patron of the Sydney Women's Fund, Ambassador for 1 Million Women and Advisor to Grace Papers.
Dominic Frawley
Dominic Frawley is a country GP in the Shoalhaven region. He is also a husband, parent, doctor and writer. Malachy, his first book, is a memoir and a tribute to his son, a 'Heart Kid' whose fourteen brief years inspired many who crossed his path. In its pages, Dom explores the bond of love between parent and child, as his family employs activism, humour, and resilience to face his son's disability and death, as well as their grief.
What an astonishing thing a book is. It's a flat object made from a tree with flexible parts on which are imprinted lots of funny dark squiggles. But one glance at it and you're inside the mind of another person ..."

Carl Sagan
Suzanne
12 Days of Christmas Competition
Click on this link for the answers to our Christmas quotes quiz.
Congratulations to Lucy, Jannette and Lorna who shared the prize - a voucher for Wax Lyrical Book Store in Berry.
School of Arts will be Festival Hub
The School of Arts and the neighbouring Scots Presbyterian Church Hall will be the hub of speaker events at the Berry Writers Festival on Saturday 23rd and 24th October. There will also be a coffee/food hub behind the School of Arts, where audience members can regroup and socialise between events.

Other locations around town will host breakout events and workshops on 22nd, as well as on the Saturday and Sunday. These include the CWA Hall, The Uniting Church Hall, the Anglican Church Hall, JoJo's and the Coach House.

Everyone in Berry has been so generous in supporting the Festival. We are continually receiving offers of catering, printing and accommodation as well as funding. Everything is very, very gratefully received. We are a new festival and I for one had no idea of the complexities of the organisation required, or of the resources we would need. But somehow it is happening.

Please come and join our teams if you would like to contribute. You can register your interest here.
Suzanne Burdon is a local, a book lover, an author, a researcher and is passionate about writers festivals. She is very proud to be part of the Berry's first Festival.
Everyone's a writer
W. Somerset Maugham said,
"There are three rules for writing the novel. Unfortunately, no one knows what they are."
I was thinking that perhaps that is why writers' festivals are so popular. Everyone wants to discover the rules!
My experience of attending writers' festivals over many years tells me that almost every visitor I meet at these events has a book in them, whether contemplated, started or abandoned. It's not just novels either, it's also personal stories and some that are the result of a lifetime of research. That is why I think that Berry has got behind our very own writers festival with such gusto. It's a really creative community, as well as being a warm and generous one.
The offers of support have been amazing with every day bringing a new offer of skills as well as financial support (but we still need more!). We have a meeting every second Wednesday at the Uniting Church hall in Albert Street Berry (next one, 9th June), if you would like to join the Berry Writers Festival volunteers.
We now have more than twenty authors on board in many genres from literary fiction to memoir, politics and history. On Friday 22nd October there will be workshops, then on Saturday 23rd we have a full day of talented speakers, with more on the Sunday. It promises to be an exciting three days.
Thanks to everyone, and let's keep up the stellar progress!
Suzanne.
Suzanne Burdon is a local, a book lover, an author, a researcher and is passionate about writers festivals. She is very proud to be part of the Berry's first Festival.
The mission of a Writer's Festival
Lisa Dempster The Wheeler Centre
Lisa Dempster is perfectly accurate in her assessment of the mission of a writer's festival:
Supporting the machinations of the publishing industry – promoting and supporting writers, celebrating and selling books, creating networking opportunities – is only one aspect of the mission of a writer's festival. The other major purpose is to entertain and inspire audiences, adding to the creative and intellectual life of a city, and promoting the values of literature and literacy overall.
Suzanne Burdon is a local, a book lover, an author, a researcher and is passionate about writers festivals. She is very proud to be part of the Berry's first Festival.
It's hard to believe that only three weeks ago the first planning meeting of the Berry Writers Festival took place!
Those first weeks have been so much more rewarding than we could have imagined. Everyone who has heard of the project has been as much head-over-hills in love with it as we are. There have been so many offers of time, energy and contacts, ideas and moments of inspiration. We knew it would take a village, but who knew how engaged the village would become and how the virtual village would be so widespread?
So far, we have a dozen authors who have agreed to appear, we have at least four workshops lined up, we have an official organisation: Berry Writers Inc, we have a web site, a bank account, and avenues for funding.
Watch this blog as we profile some of our authors and workshop convenors over the next few weeks. Also look out for competitions!
AND… Make sure you keep the weekend clear and invite your friends down to Beautiful Berry to join in!
Suzanne Burdon is a local, a book lover, an author, a researcher and is passionate about writers festivals. She is very proud to be part of the Berry's first Festival.